Online courses: Frequently Asked Questions
I can't view the course materials – I just get a link to return to the course page
The most likely problem is that pop-ups are blocked in your browser, so that when you click the link to open the course materials, the new window doesn't open. If you allow pop-ups for this eLearning website, then you should find the materials load. Please see the list below for instructions on allowing pop-ups from specific browsers.
Chrome: Look at the far right of the address bar: if you see a red cross this indicates that pop-ups are blocked. Click on the cross to allow pop-ups for this site. If the red cross isn't visible, but you are still not able to access the course materials, follow the steps below:

Click the Chrome menu (to the left of the URL bar) on the browser toolbar.
Select Settings.
Click Show advanced settings (link at the bottom of the page).
In the "Privacy" section, click the Content settings button.
Scroll down to the "Pop-ups" section, then click Manage exceptions.
Add [*.]learn.lboro.ac.uk (including [*.] at the beginning) in the exceptions box and select 'Allow'.
Then click Done.
Close the browser and try again.

Firefox: Click here for instructions – your operating system and browser version should be automatically detected.
Safari on Windows: Open Safari if it is not already open. Choose Safari > Edit. Find "Block pop-up windows"; if this has a tick beside it, click it to turn the tick off. Close and re-open your browser.
Safari on Mac OS X: Open Safari if it is not already open. Choose Safari > Preferences, and then click Security. Turn off "Block pop-up windows". Quit Safari and re-open it.
Internet Explorer: Open Internet Explorer if it is not already open. Go to Tools > Internet Options. Click the Privacy tab, and then turn off "Block pop-ups".
Where is my certificate?
For courses offering a certificate (all courses, except the two WELL courses), your certificate is available to download once you have completed the Unit assessment with a high enough score, and the Course evaluation. It appears on the course home page, beneath the links to the Unit assessment and Course evaluation.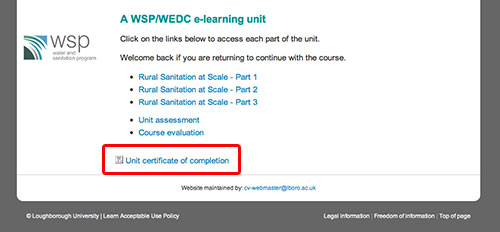 WEDC regrets that it is not able to supply paper copies of certificates, but you can print your own from the file provided.
How can I study another course?
If you have already studied a WEDC online course, you can add another course without signing up again. Click here, enter your username (e.g., wedc12345) and select the course you would like to study.
Are there other courses I can study?
The list of online courses currently offered by WEDC is available here.
If online learning isn't for you, you can find out more about the classroom-based and distance learning courses WEDC offers here.
Can I study these course on my iPad or other phone/tablet?
The WELL courses are PDF based and the materials can be accessed from any device with PDF capabilities built in.
The other courses make use of Flash technologies, and so require a browser which can support this. Although Apple devices don't natively support Flash, some users have reported that the iSwifter app will allow you to access the course materials. Please note: Any use of apps on your own devices is entirely at your own risk, and WEDC takes no responsibility for any consequences that might arise from the use of this app or any other.