Resource details
Partnerships to improve access and quality of public transport - A case report: Faisalabad, Pakistan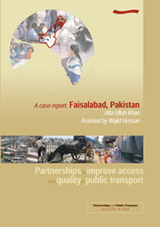 Author(s): Khan, Atta Ullah | Hassan, Wajid | Sohail, M. (ed)
Publisher:
WEDC
Place of publication:
Loughborough University, UK
Year:
2003
Series: Partnerships and Public Transport
Collection(s): WEDC Bookshop
Price: £9.95
ISBN: 9781843800385

Links:
This book presents findings from project R7786 Partnerships to improve access and quality of urban public transport for the urban poor carried out by the authors as part of the Knowledge and Research (KaR) programme of the Infrastructure and Urban Development Department, Department for International Development (DFID) of the British Government.
The purpose of the project was to identify, explore, and document critical issues in the provision of transport services for and in low-income settlements in developing countries. The identified issues can be used at policy and operational levels to provide better transport services to low-income communities in urban areas. In the research methodology, a sustainable livelihoods framework was used to set the research framework.
Faisalabad has 1,977,246 residents at the time of the most recent census in 1998, and it is likely that the population is now well in excess of 2 million. The traffic growth rate was 4.25 per cent in 1991, and that growth rate is likely to be maintained. Public transport availability varies strongly according to the nature of the community, but has not grown at the same rate as the work force. 60 per cent of the city's population live in 'colonies', which are planned developments recognised and accepted by the council. The remainder live in 'Katchi abadies' (houses developed in an unplanned manner and illegally occupied by squatters) or slums consisting of poor people who have moved to the edge of the city in the hope of finding work or education.
Keywords:
Buses | Case studies | Civil society | Faisalabad | Livelihoods | Pakistan | Private sector | Public transport