Resource details
Corruption in infrastructure delivery - South Africa: Case study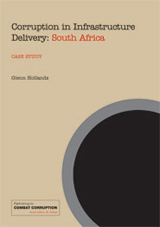 Author(s): Hollands, Glenn | Sohail, M. (ed)
Publisher:
WEDC
Place of publication:
South Africa
Year:
2007
Series: Partnering to Combat Corruption
Collection(s): WEDC Bookshop
Price: £19.95
ISBN: 9781843801146

Links:
The sustainability of the livelihoods of the poor in low- and middle-income countries is compromised by corruption in the delivery of infrastructure services. Such services include water supply, sanitation, drainage, the provision of access roads and paving, transport, solid waste management, street lighting and community buildings. For this reason, The Water, Engineering Development Centre, (WEDC) at Loughborough University in the UK is conducting research into anti-corruption initiatives in this area of infrastructure services delivery.
This series of reports has been produced as part of a project entitled Accountability Arrangements to Combat Corruption, which was initially funded by the Department for International Development (DFID) of the British Government. The purpose of the work is to improve governance through the use of accountability arrangements to combat corruption in the delivery of infrastructure services. These findings, reviews, country case studies, case surveys and practical tools provide evidence of how anti-corruption initiatives in infrastructure delivery can contribute to the improvement of the lives of the urban poor.
The main objective of the research is the analysis of corruption in infrastructure delivery. This includes a review of accountability initiatives in infrastructure delivery and the nature of the impact of greater accountability.
For more information, please visit WEDC's web page: http://wedc.lboro.ac.uk/research/project.html?p=15
Keywords:
Corruption | Local government | South Africa