Resource details
Improvement of water utility management and reduction of unaccounted-for-water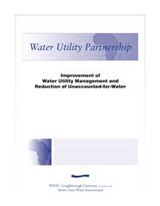 Author(s): Severn Trent Water International
Publisher:
WEDC
Place of publication:
Loughborough University, UK
Year:
2006

Collection(s): Water and sanitation resources | WEDC Bookshop
Price: £14.95
ISBN: 9781843801061

Links:
The African Water Utility Partnership for Capacity Building Africa project is part of the SIDA-funded WUP Action Programme. WUP has pioneered a successful partnership between Severn Trent Water International (STWI), the Water, Engineering and Development Centre (WEDC) and six African water utilities to work together on the 'Improvement of Water Utility Management and Reduction of Unaccounted for Water' project. This project aimed at bringing about improvements in the performance of utilities which in turn will enable them to provide better water supply and sanitation services to residents of designated services areas, with particular emphasis on the urban poor.
This collection of papers and reports are the outputs from this project. They will be particularly useful to those involved in aspects of water and sanitation utility management who are seeking to provide a more effective service.
They include:
The Project Brief
The Policy Briefing Note
The Utility Performance Improvement Plan Framework
The Workshop Report
Selected Conference Papers
Keywords:
Kenya | Lesotho | Performance Improvement Plans (PIPs) | Tanzania | Uganda | Unaccounted for water | Utilities | Water management