Resource details
How water kiosks can improve access to water for the urban poor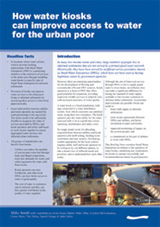 Author(s): Smith, Mike
Publisher:
WEDC in association with Practical Action
Place of publication:
Loughborough University, UK
Year:
2006

Collection(s): WEDC Bookshop
ISBN: 9781843801085

Links:
This Briefing Note considers Small Water Enterprises in relation to the operation of water kiosks, identifying key components for their success and recommendations based on good practice.
It is based upon findings from a project designed to identify and test options for improving water services to the urban poor. Phase 1 of the project included field work in Ghana, Kenya, Sudan and Tanzania to identify constraints, opportunities and strategies to supply acceptable water services to low-income customers living in informal settlements.
The evident potential for improving services delivered by SWEs led on to Phase 2 of the project, in which research teams in Tanzania and Kenya further developed constructive working agreements with water utilities in Dar es Salaam and Nairobi.
Keywords:
Case studies | Kenya | Service provider | Small Water Enterprises (SWEs) | Tanzania | Urban areas | Water kiosks | Water vendors