Resource details
Sanitary surveying v2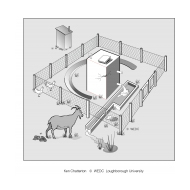 Author(s): Chatterton, Ken (ill)
Publisher:
Water, Engineering and Development Centre (WEDC)
Place of publication:
Loughborough University, UK
Year:
2014
Series: WEDC Graphics: Sanitary surveying
Links:
You need to log in to download this image. If you already have an account with My WEDC, please click the link above to log in and continue with your download.
If you haven't yet signed up for My WEDC, please click here to create your account – this link will open in a new tab or window in your browser. Once your account is created, you can close the new tab or window to return to this page, and then click the link below to log in and download the image.
Keywords:
Image | Graphic | Picture | Illustration