Resource details
G023: Latrine pit design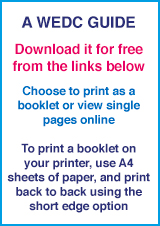 Author(s): Reed, Bob | Scott, Rebecca (ed) | Shaw, Rod (ed/ill)
Publisher:
WEDC
Place of publication:
Loughborough University, UK
Year:
2014
Series: WEDC Guide 23
Collection(s): WEDC Bookshop
Price: £2.50
ISBN: 9781843801733

Links:
---
Choose the download epub version to view the document on a tablet device with an epub3 reader installed. For smartphones, select the read online version.
---
Abstract:
This guide examines some of the factors that need to be taken into account when planning and designing a latrine pit (or twin pits), including the location of a latrine, its shape, volume, liquid capacity and life.

Keywords:
Free Basic Sanitation | Latrine fittings | Latrines | On-site sanitation | Pit latrines | Simple pit latrine