Resource details
G002FR: Catastrophes et situations d'urgence: définitions, impacts et réponse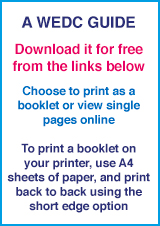 Author(s): Reed, Brian | Bosher, Lee (ed) | Shaw, Rod (ill)
Publisher:
WEDC
Place of publication:
Loughborough University, UK
Year:
2014
Series: WEDC Guide 2FR
Collection(s): WEDC | WEDC Bookshop
Price: £4.50
ISBN: 9781843801818

Links:
---
Choose the download epub version to view the document on a tablet device with an epub3 reader installed. For smartphones, select the read online version.
---
Abstract:
Le nombre de catastrophes naturelles enregistrées est en augmentation et il existe un besoin manifeste et continu d'apporter de l'aide humanitaire internationale aux populations affectées par les conflits et les guerres. Comprendre les facteurs qui influencent la décision d'intervenir est important dans la gestion de l'aide aux victimes de catastrophes et en prévention de futures crises.
Ce guide aborde un large éventail de catastrophes naturelles, technologiques, sociales ou complexes, y compris la situation d'État défaillant. Bien qu'il ne puisse pas fournir de solutions toutes prêtes pour chaque situation spécifique, le guide soulève les enjeux importants à prendre en compte quand une intervention humanitaire se met en place. 
Keywords:
Disasters | Emergency operations