Resource details
G027FR: Latrines a fosse ventilate (VIP)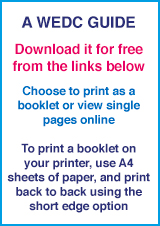 Author(s): Reed, Bob | Scott, Rebecca (ed) | Reed, Brian (ed) | Shaw, Rod (ill) | Chatterton, Ken (ill)
Publisher:
Water, Engineering and Development Centre (WEDC)
Place of publication:
Loughborough University, UK
Year:
2015
Series: WEDC Guide
Collection(s): WEDC Bookshop
Price: £3.50
ISBN: 978 1 84380 191 7

Links:
L'ajout d'un tuyau d'aération à une fosse de latrine simple est une méthode pour réduire les nuisances liées aux mouches présentes dans le bloc, notamment si celui-ci est propre et sombre. Ce type de latrine est appelé latrine à fosse ventilée (VIP). Il existe différents modèles selon les contextes, mais ils fonctionnent tous de la même manière. Ce guide décrit leur fonctionnement et présente différentes conceptions ainsi que leurs spécificités.
Keywords:
No keywords found