Resource details
G001FR: Introduction a l'evaluation d'impacts visuels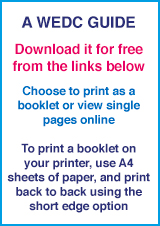 Author(s): Reed, Bob | Scott, Rebecca (ed) | Reed, Brian (ed) | Shaw, Rod (ill) | Chatterton, Ken (ill)
Publisher:
Water, Engineering and Development Centre (WEDC)
Place of publication:
Loughborough University, UK
Year:
2016
Series: WEDC Guide
Collection(s): WEDC Bookshop
Price: £3.50
ISBN: 978 1 84380 197 9

Links:
L'apparence de l'aménagement d'une infrastructure est une question importante, en particulier pour les communauté locale. Les évaluations environnementales doivent donc inclure des considérations précises sur les impacts visuels probables des projets d'aménagement et proposer des méthodes pour les atténuer.

Quantifier l'impact visuel est souvent subjectif et dépendra du point de vue – au sens littéral du terme, des individus. Ce guide présente les facteurs principaux qui doivent être pris en compte pour réaliser une évaluation d'impacts visuels.
Keywords:
No keywords found