Resource details
G013FR - Inclure la promotion à l'hygiène dans les programmes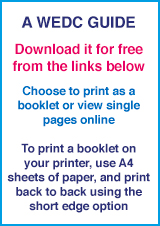 Author(s): Reed, Brian | Medland, Louise (ed) | Jones, Hazel (ed) | Shaw, Rod (ill)
Publisher:
Water, Engineering and Development Centre (WEDC)
Place of publication:
Loughborough University, UK
Year:
2014
Series: WEDC Guide
Collection(s): WEDC Bookshop
Price: £6.50
ISBN: 978 1 84380 199 3

Links:
Les responsables de programme eau, hygiène et assainissement (EHA) s'accordent généralement sur le fait que les personnes doivent adopter des comportements conformes aux règles d'hygiène afin de protéger les approvisionnements en eau et garantir la bonne utilisation des installations sanitaires. Cependant, la promotion de meilleures pratiques en matière d'hygiène diffère de la construction d'infrastructures, avec des indicateurs d'avancement moins concrets. Des campagnes doivent donc être planifiées et mises en œuvre selon une méthode adaptée.
Keywords:
No keywords found