Resource details
Labour-based road construction: A state-of-the-art-review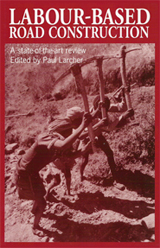 Author(s): Larcher, Paul (ed)
Publisher:
Intermediate Technology Publications
Place of publication:
London
Year:
1998

Collection(s): WEDC Bookshop
Price: £12.95
ISBN: 9781853394164

Published by ITDG Publishing this book brings together up-to-date, undocumented information on the practices of labour-based road construction in low income countries around the world. It draws on the experiences of practitioners working in this field who describe tried and tested ideas, as well as looking at failures and their causes. Topics covered include the design, selection and use of intermediate equipment for a labour force employed in this area. The book also discusses the issues of utilising the private sector for contracting out road construction and maintenance. It describes the evolution of contractor development programmes from the initial plot phase to full-scale programmes, considering the problems encountered and how to overcome them.
Keywords:
Contractors | Equipment | Private sector