Resource details
Observations of solid waste management in Bombay, 1992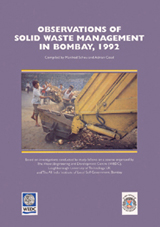 Author(s): Coad, Adrian | Scheu, Manfred
Publisher:
WEDC
Place of publication:
Loughborough University, UK
Year:
1994

Collection(s): Solid waste management | WEDC Bookshop
ISBN: 9780906055403

Links:
This report is based on information collected by engineers during a training programme in India conducted by WEDC and the All India Institute of Local Self Government (AIILSG). It gives a unique insight into actual day-to-day operations in one of Indias largest cities, and demonstrates how this data can be analysed. Subjects include the administrative and legal background, the operations of the street sweepers, attitudes of slum dwellers, operation of data on vehicle operations, and the status of recycling and disposal operations.
Keywords:
Bombay | India | Low-income communities | Private sector | Recycling | Refuse collection vehicles