Resource details
Community initiatives in urban infrastructure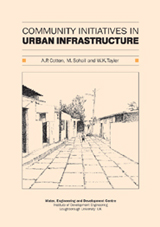 Author(s): Cotton, A.P. | Sohail, M. | Tayler, W.K.
Publisher:
WEDC
Place of publication:
Loughborough University, UK
Year:
1998

Collection(s): Urban services and infrastructure | WEDC Bookshop
Price: £9.95
ISBN: 9780906055564

Links:
This manual investigates the extent and nature of the involvement of low-income urban communities in the provision of their local infrastructure. It also provides guidance for policy-makers and professional staff of urban government, development agencies, non-government organisations, and small to medium enterprises for promoting increased involvement of communities in the procurement of neighbourhood (tertiary level) infrastructure.
Cases relating to water supply, sanitation, drainage, access, paving, street and security lighting, solid waste removal, and community buildings are examined.
ALSO AVAILABLE IN URDU. Contact M.Sohail for details.
Keywords:
Contractors | India | Low-income communities | Pakistan | Procurement | Sri Lanka