Resource details
Advocacy manual for gender and water ambassadors: Guidelines - lobbying, speeches, conferences;Training Module; Case Studies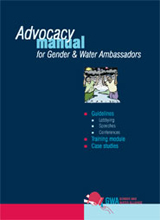 Author(s): Lidonde, Rose Atemo | De Jong, Dick | Barot, Nafisa | Nahar, Begum Shamsun | Maharaj, Niala | Derbyshire, Helen | Gender and Water Alliance (GWA)
Publisher:
WEDC for Gender and Water Alliance
Place of publication:
Loughborough University, UK
Year:
2003

Collection(s): WEDC Bookshop
ISBN: 9781843800194

Links:
This Advocacy Manual has been developed to assist members of the Gender and Water Alliance (GWA) who are involved in advocacy on gender issues within the water sector. This includes influencing debates in international and national water conferences and similar events, as well as advocacy in relation to national water policy development, implementation and monitoring. However, the Manual also provides useful information and guidance for staff from any government, civil society organisation or business striving to recognise and address gender issues in their work and that of other organisations.
This Manual is one of a series of advocacy materials prepared for the Gender and Water Alliance by WEDC, Loughborough University, UK with an international GWA team led by Ian Smout. It was written by Rose Atemo Lidonde, Dick de Jong, Nafisa Barot, Begum Shamsun Nahar, Niala Maharaj and Helen Derbyshire. The draft manual was reviewed by Helen Derbyshire and Jennifer Francis. The manual will also be available in French, Portuguese and Spanish.
The Gender and Water Alliance The Gender and Water Alliance (GWA) was formally established in June 2000 to promote gender mainstreaming in all aspects of water resource management (WRM). GWA is an international network open to all organisations and individuals involved in the water sector and is funded by the governments of the Netherlands and United Kingdom. It is hosted by a Secretariat at the IRC-International Water and Sanitation Centre in the Netherlands and governed by a steering committee elected by the members. It is an Associate Programme of the Global Water Partnership (GWP).
The establishment and mandate of GWA reflect a growing recognition by governments and donors that sustainable solutions to the world's water crisis have to blend the different needs and opinions of women and men. The Alliance's prime purpose is to encourage and support all the partners in water resources development and management in efforts to ensure the full involvement of women and men, rich and poor, in the formulation and implementation of plans to combat the water crisis.
The principles of sustainable WRM and of gender equity were endorsed at the Second World Water Forum and Ministerial Conference in The Hague in March 2000. It is the application of those principles on a worldwide basis that drives the GWA agenda.
Keywords:
Advocacy | Case studies | Conferences | Gender | Integrated Water Resource Management (IWRM) | Water management