Resource details
Operation and maintenance of urban services: Synthesis note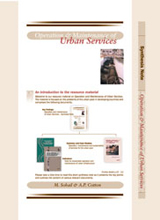 Author(s): Sohail, M. | Cotton, A.P.
Publisher:
WEDC
Place of publication:
Loughborough University, UK
Year:
2002

Collection(s): Urban services and infrastructure | WEDC Bookshop
Price: £5.95
ISBN: 9781843800156

Links:
This synthesis note introduces other resource material available on the operation and maintenance (O&M) of urban services. Designed for policy-makers who need to optimize investments in services for the urban poor, and professional staff employed in public utilities in developing countries, it also summarizes the key issues and recent research findings; presents an overview of O&M and the difficult questions which still remain; and examines some of the requirements for success.
Keywords:
Low-income communities | O&M | Urban services