Resource details
Emergency vector control using chemicals: A handbook for relief workers - 2nd edition (2nd edn)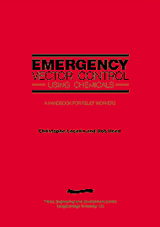 Author(s): Lacarin, Christophe Jean | Reed, Bob
Publisher:
WEDC
Place of publication:
Loughborough University, UK
Year:
1999

Collection(s): Emergency water and sanitation | WEDC Bookshop
Price: £19.95
ISBN: 9781843800682

Links:
The control of vectors that transmit diseases in emergencies is critical to the prevention of epidemics. This handbook describes how such vectors can be identified and controlled using chemicals. Aimed at non-specialists such as logisticians, engineers and health workers, it provides advice on identifying the responsible vector, selecting the appropriate control chemical and the means of application, together with advice on planning an implementation programme.
Also available in this series:
Controlling and Preventing Disease
Erik Rottier and Margaret Ince
Emergency Sanitation
Peter Harvey, Sohrab Baghri and Bob Reed
Emergency Water Sources
Sarah House and Bob Reed
Out in the Cold
Mark Buttle and Michael Smith
Keywords:
Camps | Emergency operations | Refugees | Vector control | www