Resource details
Water for low-income urban communities (A WEDC Guidance Note)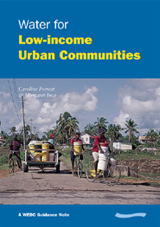 Author(s): Forrest, Caroline | Ince, Margaret
Publisher:
WEDC
Place of publication:
Loughborough University, UK
Year:
2001

Collection(s): WEDC Bookshop
Price: £5.95
ISBN: 9780906055878

This Guidance Note discusses how the number of people living in low-income urban communities in developing countries is growing rapidly. It describes how people in such settlements make choices about sources of water for their daily domestic needs, and how they often end up paying much more than wealthier urban residents for small quantities of water. Ways in which water supply to poor urban dwellers can be improved are considered, as are constraints to improving supplies.
On reading this Guidance Note, you will:
understand how people make choices about sources of water for domestic use;
realise the extent to which people rely on private water vendors, at higher prices than those with household water connections;
know how vendors establish water prices, and why water purchased in this way is expensive;
be aware of some of the options for improving water supply to the urban poor; and
understand why these options do not always succeed in practice.
Keywords:
Poverty | Urban areas | Water kiosks | Water supply charges | Water vendors