Resource details
Services for the urban poor: 1. Guiding principles for policymakers, planners and engineers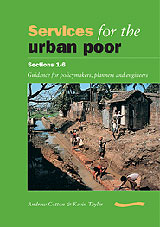 Author(s): Cotton, Andrew | Tayler, Kevin
Publisher:
WEDC
Place of publication:
Loughborough University, UK
Year:
2000

Collection(s): WEDC Bookshop
Price: £5.95
ISBN: 9780906055786

Links:
Section 1. Guiding Principles is aimed primarily at policymakers but is also of direct relevance to urban engineers and planners. It presents an overview of principles and offers guidance for the development of an action planning approach to improve services for the urban poor within a policy context which supports administrative decentralisation and involvement of users in the planning process.
Keywords:
Infrastructure | Urban services