Resource details
Water safety plans - Book 4: IRA-WDS software and manual for risk assessment of contaminant intrusion into water distribution systems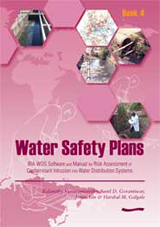 Author(s): Vairavamoorthy, Kalanithy | Gorantiwar, Sunil D. | Yan, Jimin | Galgale, Harshal M.
Publisher:
WEDC
Place of publication:
Loughborough University, UK
Year:
2006

Collection(s): Water and sanitation - Water safety plans | WEDC Bookshop
Price: £19.95
ISBN: 9781843801030

Links:
This book has been written specifically for practitioners involved in the operation, maintenance and management of piped water distribution systems in urban areas of developing countries. These practitioners include engineers, planners, managers, and water professionals involved in the monitoring, control and rehabilitation of water distribution networks.
This book is a manual for using the developed software, IRA-WDS (Improved Risk Assessment for Water Distribution Systems), a Geographical Information System (GIS) that aids in evaluating the risk of deterioration of the water distribution network of a water supply system. The manual is a structured document and explains a step-by-step procedure for using the IRA-WDS, with examples.
The software IRA-WDS has been developed to evaluate risks to piped water distribution systems of urban areas in developing countries. This manual enables the use of this software. The software consists of three models, namely the Contaminant Ingress Model, Pipe Condition Assessment Model and Risk Assessment Model. The IRA-WDS is designed to use these models together or individually. This manual provides a step-by-step procedure for using these models and obtaining results. Water Safety Plans Book 3, also developed in this series, should be used along with the software and this manual. This will enable readers to understand and analyse their results.
The WEDC Water Safety Plans series comprises:
Book 1: Planning Water Safety Management for Urban Piped Water Supplies in Developing Countries
Book 2: Supporting Water Safety Management for Urban Piped Water Supplies in Developing Countries
Book 3: Risk Assessment of Contaminant Intrusion into Water Distribution Systems
Book 4: IRA-WDS Software and Manual for Risk Assessment of Contaminant Intrusion into Water Distribution Systems
Keywords:
Computer software | Models | Pipe materials | Piped distribution | Water pollution | Water quality management