Resource details
Vehicles for people or people for vehicles?: Issues in solid waste collection in low-income countries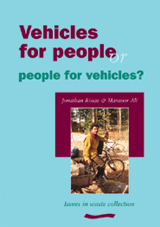 Author(s): Rouse, Jonathan | Ali, Mansoor
Publisher:
WEDC
Place of publication:
Loughborough University, UK
Year:
2002

Collection(s): Solid waste management | WEDC Bookshop
Price: £24.95
ISBN: 9781843800125

Links:
The livelihoods of many thousands of poor people in low-income countries rely on collecting and recycling solid waste. Small waste collection vehicles (SWCVs) such as wheelbarrows and cycle carts play a vital role, enabling individuals to transport more waste, faster, further and with greater ease and safety. However, many are inappropriately designed, giving rise to difficulty, danger and expense to users.
This book is based on interim research findings of a Department for International Development (DFID) funded project (R7880). It examines SWCVs from social, technical and institutional angles, focusing on users but acknowledging the important linkages between different issues. The book also considers in some depth the process of user consultation in vehicle design. Fieldwork undertaken in five low- and middle-income countries combines with literature to provide extensive illustrated case-study material.
Keywords:
Refuse collection vehicles | Solid wastes