Resource details
Spreading the word: Practical guidelines for research dissemination strategies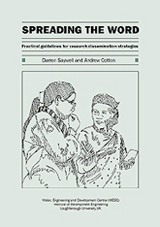 Author(s): Saywell, Darren | Cotton, Andrew
Publisher:
WEDC
Place of publication:
Loughborough University, UK
Year:
1999

Collection(s): WEDC Bookshop
ISBN: 9780906055632

Links:
This document reviews the interim findings from Phase 1 of a Department for International Development (DFID) funded project (R7127) concerning the development of practical guidelines for research dissemination strategies. Results from a review of literature, case study analysis and interviews with key informants are discussed. The purpose of Phase 1 is to understand current thinking and approaches to dissemination of research as adopted by sector based agencies both in the UK and internationally. This facilitates an initial analysis of common dissemination strategies used, problems and constraints experienced, and factors that aid effective dissemination. This in turn is used to provide tentative guidance for research contractors and DFID alike for dissemination of projects.
Keywords:
Case studies | Communication | Dissemination