WHO Technical Notes for Emergencies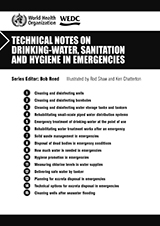 These four page highly-illustrated notes have been prepared by WEDC for the World Health Organization to assist those working immediately or shortly after an emergency to plan appropriate responses to the urgent and medium-term water and sanitation needs of affected populations.
The notes are relevant to a wide range of emergency situations, including both natural and conflict-induced disasters. They are suitable for field technicians, engineers and hygiene promotors, as well as staff from agency headquarters.
Please click the links below to view the pdfs.
Now also available in French! Click here for French editions.
Maintenant aussi disponible en Français! Cliquez ici pour les éditions françaises.
Complete: all 15 notes in one file
Prepared for WHO by WEDC. Author and Series Editor: Bob Reed.
Editorial contributions, design and illustrations by Rod Shaw
Line illustrations courtesy of WEDC / IFRC. Additional graphics by Ken Chatterton.
Other resources you may find helpful:
Please search the Knowledge Base for other useful resources.
© World Health Organization 2013. All rights reserved. All reasonable precautions have been taken by the World Health Organization to verify the information contained in this publication. However, the published material is being distributed without warranty of any kind, either expressed or implied. The responsibility for the interpretation and use of the material lies with the reader. In no event shall the World Health Organization be liable for damages arising from its use.