Resource details
Small-scale water supply: A review of technologies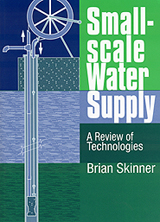 Author(s): Skinner, Brian
Publisher:
ITDG Publishing
Place of publication:
London
Year:
2003

Collection(s): Water and sanitation resources | WEDC Bookshop
Price: £12.95
ISBN: 9781853395406

Published by Practical Action Publishing this handy book introduces the technologist and non-technologist alike to supplying water to small, low-income communities in a rural areas. It details the technologies that can be used for water supply in developing countries and also introduces the reader to important non-technical aspects to be considered when constructing facilities. While mainly related to point supplies such as wells, boreholes, springs and rainwater catchment systems, it also considers powered pumps, water storage, water treatment and piped distribution systems.
Water supply is a vast subject and this book enables field workers, designers and planners to develop an overview of the technologies available. It allows them to take the first steps to designing a comprehensive water supply scheme and covers the questions to be asked and the sources to be consulted to realize the scheme.
Introduces the technologies relevant to small-scale water supply
Extensively illustrated with excellent diagrams, clear tables and summaries
Points to more detailed sources of information from readily-available works
Keywords:
Hand pumps | Rural supply systems | Small-scale activities | Water lifting devices | Water sources | Water storage | Water treatment