Resource details
Performance monitoring of micro-contracts for the procurement of urban infrastructure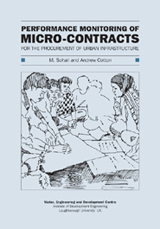 Author(s): Sohail, M. | Cotton, Andrew
Publisher:
WEDC
Place of publication:
Loughborough University, UK
Year:
2000

Collection(s): Urban services and infrastructure | WEDC Bookshop
ISBN: 9780906055700

Links:
This document presents the findings from Project R6857 Performance Monitoring of Infrastructure Procurement for Urban Low Income Communities carried out by the authors as part of the Knowledge and Research Programme, Infrastructure and Urban Development Department, Department for International Development (DFID) of the British Government.
The purpose of this project is to develop a framework and tools for the appraisal, monitoring and evaluation of micro-contracts for the procurement of local infrastructure in urban low-income communities. In addition to the standard measures of time, cost and quality, the work also attempts to capture some of the crucial wider socio-economic impacts of community-based works. The findings in this booklet will be of use to donor/lending agencies, government officials, and non-government organizations (NGOs) involved in improving services for the urban poor.
Keywords:
Contracts | India | Low-income communities | Pakistan | Performance indicators | Procurement | Sri Lanka