Resource details
People-centred approaches to water and environmental sanitation: Proceedings of the 30th WEDC Conference, Lao National Cultural Hall, Vientiane, Lao PDR, October 2004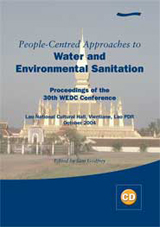 Author(s): Godfrey, Sam (ed)
Publisher:
WEDC
Place of publication:
Loughborough University, UK
Year:
2004
Series: WEDC Conference 30
Collection(s): WEDC Bookshop | WEDC Conference
ISBN: 9781843800781

Links:
Historically, the water and sanitation sector in the developing world has focused predominantly on service provision of domestic drinking water and improved sanitation. To many, however, water is more than just a service. It is a key resource to reduce the global burden of disease, increase productivity and improve livelihoods. The 30th WEDC Conference focused on the idea that people themselves are the creators of sustainable development, and principles identified in the last century by scholars such as Schumacher and Chambers who emphasised that development can only be sustainable if people are central in its creation, participation, completion and benefit. In relation to water and environmental sanitation, this requires a radical change in the attitudes of professionals away from mere service provision towards participatory service creation and sustainability.
The primary aim of the 30th WEDC Conference was to increase sharing and learning of professionals involved in water and environmental sanitation in low-income countries. The conference provided the opportunity for both academics and practitioners to present written papers as a means of disseminating knowledge related to people-centred approaches.
To browse and download the papers presented at this conference, follow this link:
http://wedc.lboro.ac.uk/knowledge/conference_papers.html?cid=30
To search ALL conference papers, follow this link:
http://wedc.lboro.ac.uk/knowledge/conference_search.html
Keywords:
Conferences | Environmental sanitation | Institutional | Water resources | Water supply