Resource details
Implementing labour standards in construction: Briefing and guidance notes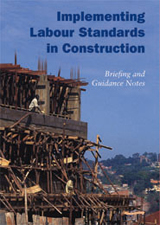 Author(s): Scott, Rebecca | Cotton, Andrew
Publisher:
WEDC
Place of publication:
Loughborough University, UK
Year:
2005

Collection(s): Urban services and infrastructure | WEDC Bookshop
Price: £12.95
ISBN: 9781843800927

Links:
This series of Briefing and Guidance Notes Implementing Labour Standards in Construction is based on a review of international literature, together with lessons learned from pilot studies carried out in Ghana, India and Zambia. Complementing the sourcebook of the same name, the Notes offer concise guidance on how to incorporate international and national labour standards into procurement contracts and procedures, in a way that enables the standards to be effectively applied and monitored. These Notes will be particularly useful for anyone involved in infrastructure procurement, construction management, contract supervision, social protection and labour rights.
See also: Implementing Labour Standards in Construction - A sourcebook
Keywords:
Construction | Contracts | MDGs | Millennium Development Goals