Resource details
Success and sustainability indicators: A tool to assess primary collection schemes - case study, Khulna, Bangladesh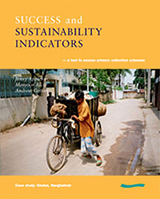 Author(s): Appleton, Jenny | Ali, Mansoor | Cotton, Andrew
Publisher:
WEDC
Place of publication:
Loughborough University, UK
Year:
2000

Collection(s): Solid waste management | WEDC Bookshop
Price: £14.95
ISBN: 9780906055731

Links:
A list of success and sustainability indicators for primary solid waste collection systems was prepared by the project team as part of the DFID Knowledge and Research (KaR) research project, Capacity Building for Primary Collection of Solid Waste (R 7143). The indicators were prepared to help field workers undertake impact assessments of primary solid waste collection schemes. This booklet presents the indicators, how they may be used and the results of the field tests.
Keywords:
Bangladesh | Community based organizations (CBO) | Contractors | Non-governmental organizations (NGO) | Refuse collection | Solid waste management