Resource details
DFID guidance manual on water supply and sanitation programmes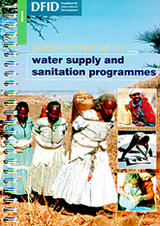 Author(s): Water and Environmental health at London and Loughborough (WELL) | London School of Hygiene and Tropical Medicine (LSHTM) | Water, Engineering and Development Centre (WEDC)
Publisher:
WEDC
Place of publication:
Loughborough University, UK
Year:
1998
Series: WELL Books
Collection(s): Water and sanitation resources | WEDC Bookshop
ISBN: 9780906055588

Links:
The Department for International Development DFID commissioned this Guidance Manual from the WELL Resource Centre to assist staff and partners to develop effective and sustainable water supply and sanitation programmes. It represents collaboration across a range of professions within the Department and from key UK professionals in the sector. It details inter-disciplinary approaches to planning and implementation of partnership-based programmes.
The Manual comprises three chapters and appendices. These take the reader from an overview of the sector, through specific development perspectives, to detailed recommendations for each stage of the project cycle.
Chapter 1 is an introduction to water supply and sanitation projects and sets the scene. It describes the WS&S sector with particular focus on the development of services for the poor in both urban and rural areas. Emphasis is placed on the importance of co-operation and partnership and the chapter also introduces the DFID programme and project process.
Chapter 2 Principles and practice starts with an inter-disciplinary analysis of key issues and then sets out recommended approaches under seven perspectives: social development; health; environmental sustainability; economic and financial perspectives; institutional perspectives; technical aspects; and hygiene promotion and sanitation promotion. These are explored in some detail so that professional staff in DFID and its partners will gain a better understanding of all the aspects and not just their own speciality.
Chapter 3 Water supply and sanitation in the DFID programme and project cycle is the 'how to' part of the manual which brings together the disciplinary perspectives at each stage of the project cycle. The key issues to be taken into account are set out in a helpful 'question and recommendation' format.
Appendices include examples of logical frameworks for water supply and sanitation projects.
Keywords:
Economic aspects | Environment | Evaluation | Health aspects | Institutional | Logical frameworks | Projects | social development | Social marketing | Sustainability | technology