Resource details
Lessons learned from NGO experiences in the water and sanitation sector: Water and NGOs workshop, 21 January 1998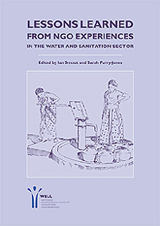 Author(s): Smout, Ian (ed) | Parry-Jones, Sarah (ed)
Publisher:
WEDC
Place of publication:
Loughborough University, UK
Year:
1999
Series: WELL Books
Collection(s): WEDC Bookshop | WELL
ISBN: 9780906055618

Links:
This book, prepared by the WELL Resource Centre, comprises 31 summaries of NGO projects in the water sector, and the lessons learned from them, together with the edited proceedings of a workshop held in London in January 1998.
The project summaries were prepared by NGOs and cover a wide geographical range, with a variety of lessons identified from the projects. Three overview papers were presented at the workshop and are also included in the book.
Keywords:
Bangladesh | Burkina Faso | Cambodia | Case studies | Community management | Ethiopia | Gambia | Ghana | Honduras | India | Kenya | Malawi | Maldives | Mozambique | Nepal | Non-governmental organizations (NGO) | Rwanda | Sanitation | Senegal | South Africa | Sustainability | Tanzania | Tibet | Uganda | Water supply | Zimbabwe