Resource details
Water, sanitation and hygiene. Sustainable development and multisectoral approaches. Proceedings of the 34th WEDC International Conference, United Nations Conference Centre, Addis Ababa, Ethiopia, 18-22 May 2009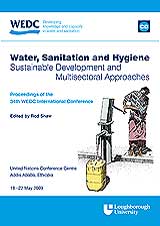 Author(s): Shaw, Rod
Publisher:
WEDC
Place of publication:
Loughborough University, UK
Year:
2009
Series: WEDC Conference 34
Collection(s): WEDC Bookshop | WEDC Conference
Price: £9.95
ISBN: 9781843801337

Links:
The 34th WEDC International Conference focused on the sustainable development of water resources, water supply and environmental sanitation. The WEDC International Conference provides a platform for the sharing of ideas, research and experience, and serves to enhance the learning of professionals involved in the water and environmental sanitation sector in low- and middle-income countries. The main body of the Proceedings is arranged in sections based on the four discussion themes of Environmental Sanitation, Institutional Issues, Water Resources and Water Supply. These are followed by a Special Interest Session on Demand Management, Panel Discussions on a variety of key issues, and finally, abstracts of poster presentations.
To browse and download the papers presented at this conference, follow this link:
http://wedc.lboro.ac.uk/knowledge/conference_papers.html?cid=34
To search ALL conference papers, follow this link:
http://wedc.lboro.ac.uk/knowledge/conference_search.html
Keywords:
Conferences | Environmental sanitation | Hygiene | Institutional | Knowledge management | Sustainable development | Water resources | Water supply