Resource details
PPP and the Poor: Interim findings - Part B - Case studies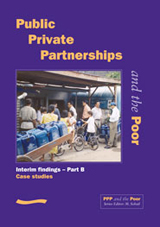 Author(s): Sohail, M. | Sohail, M. (ed) | Cotton, A.P.
Publisher:
WEDC
Place of publication:
Loughborough University, UK
Year:
2001
Series: PPP and the Poor
Collection(s): Public-private partnerships and the poor | WEDC Bookshop
Price: £14.95
ISBN: 9780906055946

Links:
The purpose of the project Public Private Partnerships and the Poor in Water and Sanitation is to determine workable processes whereby the needs of the poor are promoted in strategies which encourage public-private partnerships (PPP) in the provision of water supply and sanitation services. One of the key objectives is to fill some of the gaps which exist in evidence-based reporting of the facts and issues around the impacts of PPP on poor consumers.
These reports present the interim findings of an analysis of both the pre-contract and operational phases of a number of PPP contracts. Part A presents a summary and lesson learned. Details of the operational case studies are given in Part B. A broad view of PPPs has been taken and situations where the public sector is in partnership either with formal private sector companies, or with small scale local entrepreneurs, or with NGOs employed in a private sector capacity have been included.
Keywords:
Contracts | Kenya | Lessons | Low-income communities | Pakistan | Partnerships | Poverty | Private sector | Public private partnership | Public sector | South Africa