Resource details
Water from sand rivers: Guidelines for abstraction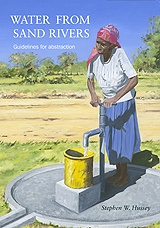 Author(s): Hussey, Stephen W.
Publisher:
WEDC
Place of publication:
Loughborough University, UK
Year:
2007

Collection(s): Water and sanitation resources | WEDC Bookshop
Price: £24.95
ISBN: 9781843801269

Links:
Sand rivers can be found in arid and semi-arid areas of the world where water is in short supply. Despite their dry appearance, useable quantities of water often reside in aquifers beneath the surface and can provide a sustainable and safe supply for rural communities. Nevertheless, dry rivers are often overlooked as a realizable source of water.
This book sets out to address this issue and promotes the abstraction of water from sand rivers as a viable and affordable option for dryland areas. It enables the reader to assess the potential for abstraction from beneath a dry river bed and provides practical guidelines for doing so.
The book is a 'how to' manual and is essential reading for engineers, technicians, fieldworkers and project planners who are faced with the challange of providing and sustaining safe and reliable water sources for low-income communities. It is also aimed at providing decision-makers in the water industry, commercial, government and non-governmental organizations with an overview of an alternative, appropriate water supply solution for dryland areas.
Produced by the Dabane Trust, Zimbabwe and WETT, UK in association with WEDC, Loughborough University. Funded by Action for World Solidarity (AWS), Tudor Trust and the Department for International Development (DFID).
Keywords:
Aquifers | Arid zones | Case studies | Pumps | Sand abstraction | Sand dam | Social aspects | Water points | Zimbabwe