Resource details
G019: An introduction to water safety plans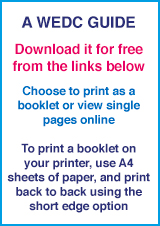 Author(s): Smith, Michael | Reed, Brian | Greaves, Frank (ed) | Shaw, Rod (ed/ill)
Publisher:
WEDC
Place of publication:
Loughborough University, UK
Year:
2014
Series: WEDC Guide 19
Collection(s): WEDC Bookshop
Price: £2.50
ISBN: 9781843801702

Links:
Abstract:
This guide describes what water safety plans are, why they are used, and how they can be developed and implemented. It demonstrates how they contribute to ensuring that consumers, suppliers and regulators can have confidence in the quality of water supplies. The guide is intended for those who have responsibility for the quality of water supplies and are involved in developing, implementing or reviewing water safety plans.
Keywords:
Contamination | Water quality | Water safety plans | Water supply