Resource details
PPP and the Poor: Case Report 1 - Karachi, Pakistan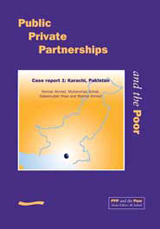 Author(s): Ahmed, Noman | Sohail, Muhammad | Khan, Saleemullah | Ahmed, Iftekhar | NED University of Engineering and Technology, Karachi | Sohail, M. (ed)
Publisher:
WEDC
Place of publication:
Loughborough University, UK
Year:
2003
Series: PPP and the Poor
Collection(s): Public-private partnerships and the poor | WEDC Bookshop
Price: £5.95
ISBN: 9781843800439

Links:
The purpose of the project Public Private Partnerships and the Poor in Water and Sanitation is to determine workable processes whereby the needs of the poor are promoted in strategies which encourage public-private partnerships (PPP) in the provision of water supply and sanitation services. One of the key objectives is to fill some of the gaps which exist in evidence-based reporting of the facts and issues around the impacts of PPP on poor consumers. This report presents the case report from Karachi, Pakistan.
Keywords:
Africa | Asia | Awami tanks | Bulk water consumers | Contracts | Latin America | Lessons | Low-income communities | Middle East | North America | Pakistan | Partnerships | Private sector | Public private partnership | Public sector | Water supply